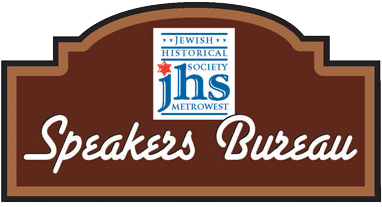 Speakers Bureau
The Jewish Historical Society of Metrowest's Speakers Bureau is pleased to offer a series of slide programs and lectures to groups interested in local New Jersey and general Jewish history. With a wide range of topics to select from, the Society's speakers are knowledgeable, entertaining, and prepared to bring their history to you for a nominal honorarium to the JHSMW.
Available presentations
| | | |
| --- | --- | --- |
| | Title | Summary |
| | "Who's Minding the Store?: From Mom and Pop Merchants to Supermarket Entrepreneurs" | Transports the listener from the era of peddlers and push-carts to the successful growth of public corporations owned by MetroWest families. This is the story of first generation mom-and-pop merchants who established family businesses in Essex, Morris and Sussex counties, New Jersey. Little known is that Metrowest's merchants grew New Jersey's premier supermarkets, Kings, ShopRite and Pathmark. |
| | "The Jews of Morris and Sussex: Early Settlers, Synagogues, Hotel Resorts, and Lake Communities." | Begins during the Civil War when the first Jewish settlers, the Sire family, owned the local race track and sold remounts to the Union Army. Six towns, Morristown, Dover, Mount Freedom, and Pine Brook in Morris County, and Newton and Franklin in Sussex County have one hundred year old synagogues with stories to tell. |
| | "It Happened at the Beth: Great Moments in the Life and Times of Newark Beth Israel Hospital" | An anecdotal, infomative, and often humorous account of how Newark's Jews founded, funded, and oversaw the success of New Jersey's Jewish hospital since 1901. In the mix is an account of the Parsonnet and Danzis families and their role in the hospital's history. Find out how Israel's prime minister, David Ben Gurion, is part of the Beth's remarkable history. . |
| | "One More Night at Elving's Metropolitan Yiddish Theater." | A picture and musical account of Newark and New Jersey's most successful commercial Yiddish theater, this theater was owned and operated by Bernard and Rose Elving. Area residents recall attending performances, working as extras, and as youngsters sneaking into the theater during summers when the doors stayed open. Located in the heart of Newark's Prince Street neighborhood, a performance at Elving's was perfect for a Yiddish speaking crowd. |
| | "Weequahic Memoirs: Celebrating Newark's Legendary Neighborhood" | An attempt to capture the flavor of Jewish life in a section of the city described by author Philip Roth as Newark's "Last Frontier." The slides feature Weequahic Park, neighborhood shops, stops and eateries, neighborhood elementary schools, the all important subject of Weequahic High School, including its outstanding teachers, sports teams and social groups and invites participation from the audience as chances are the audience will have their roots in Weequahic. |
| | "Our Crowd Comes to Newark: The Legacy of Louis Bamberger." | Louis Bamberger founded, owned and operated Newark's and "One of America's Great Stores," L. Bamberger & Company. His quiet generosity earned him the reputation as New Jersey's leading philanthropist of the twentieth century. MetroWest residents recall how each met a date or a friend under the Bamberger clock...tuned in to New Jersey's first radio station WOR when it was broadcast from the store in 1922...eating elegantly at the store's Tea Room...and miss the bygone ear of Bamberger service. Customers were treated like guests when they entered one of the five entrances to the Great White Building that occupied an entire city block in downtown Newark. Everybody has a Bamberger memory. Add yours to the list. |
Speakers Roster
| | | |
| --- | --- | --- |
| Title | Name | Topics |
| Executive Director/Curator | Linda Forgosh | General MetroWest history and exhibition-specific topics |
A Fabulous Bus Tour of Jewish Newark

Morris Resnick's jitney service circa 1927 is courtesy
of Bea Newman.
The bus trip will highlight Jewish sites outlining the southward migration of Jews from Springfield Avenue to the Weequahic neighborhood. You'll learn about buildings and sites never before presented on Newark tours.
Contact information
To book a speaker or tour please contact:
Linda Forgosh, JHSMW Executive Director
(973) 929-2994 ~ lforgosh@jhsmw.org